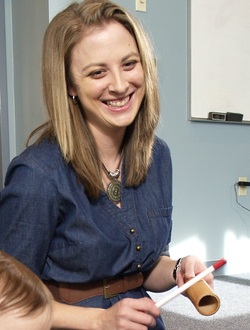 Hilari Stahler, MT-BC
Hilari Stahler, a Board-Certified Music Therapist, has dedicated her career to exploring how the arts can inspire growth in children of all abilities. After working at a school for children with autism for seven years, Hilari founded More Than Music, LLC. She has been extensively trained in early childhood music development, and holds a bachelors degree in Music Therapy. She has been active in drama, music, dance, and visual art since childhood, and believes whole-heartedly in their power to motivate and bring about growth. She currently teaches "You&Me" early-childhood music classes, and most recently has introduced "Draw me a Song" music and sensory-art classes for toddlers and children. In addition to group work, she facilitates individual music therapy sessions as well as piano, guitar and violin instruction.
---
---
Julia Wetherhold
Julia Wetherhold is a licensed K through 12 general, vocal, and instrumental music educator. She got her bachelors degree in 2007 from Lebanon Valley College. While there she was a member of the concert choir which allowed her to travel to Budapest, Austria, and the Czech Republic to perform. She began her teaching career in Iowa teaching pre-kindergarten through 12th grade general and vocal music. Julia returned to her home state of Pennsylvania to teach middle school general and vocal music in the Allentown school District. In 2012 Julia received her Masters degree in elementary education. She enjoys sharing her love of music with her husband and three children ages four, two, and nine months.
---